A life that is not in the rat race, a life that is attached to nature, a life that needs no detoxing, is the kind of life of many rural Ceylonese.


People of the precious Ceylon are much applauded for their warm welcoming nature. Just as how much this country is a famous tourist destination for its beauty in terms of its unique places and activities, it is just as much famous and loved for the extraordinary level of the hospitality of its people. Sometimes, they don't have as many luxuries to offer, but they would bring everything in the kitchen to the table for you with the warmest, most kindest smile.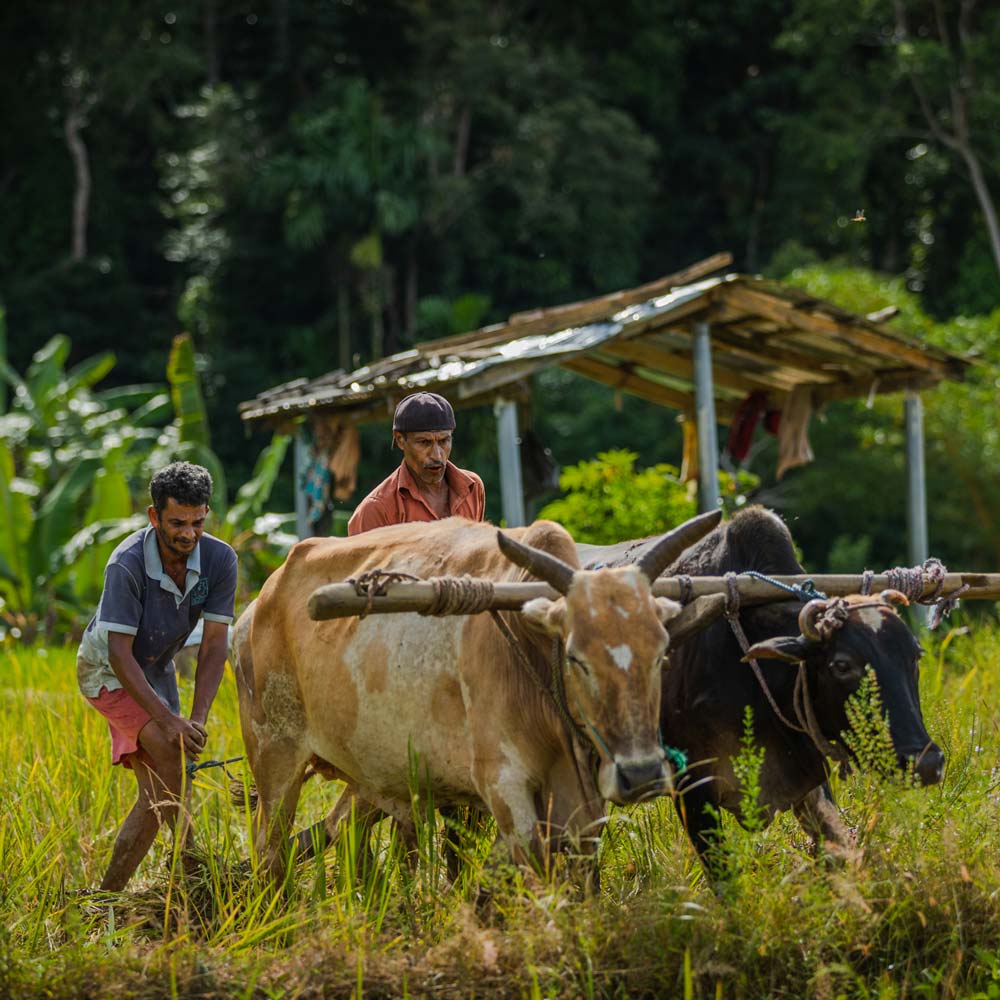 Leave the road, take the trails
Make your own Village lunch
Milking Experience
Akway has provided a livelihood for the dairy farmers of the adjacent villages by purchasing all the milk they are able to supply.
The hotel boasts freshly made dairy products such as cream, cheese, yogurt, milk toffee, and condensed milk, all made possible because of tireless farmers like Sanath who will tell you his story and teach you the niceties of dairy farming.
Milk a cow, and enjoy a fresh cuppa.be it Sri Lankan coffee or tea… you can be sure that the cream comes from just a walk away.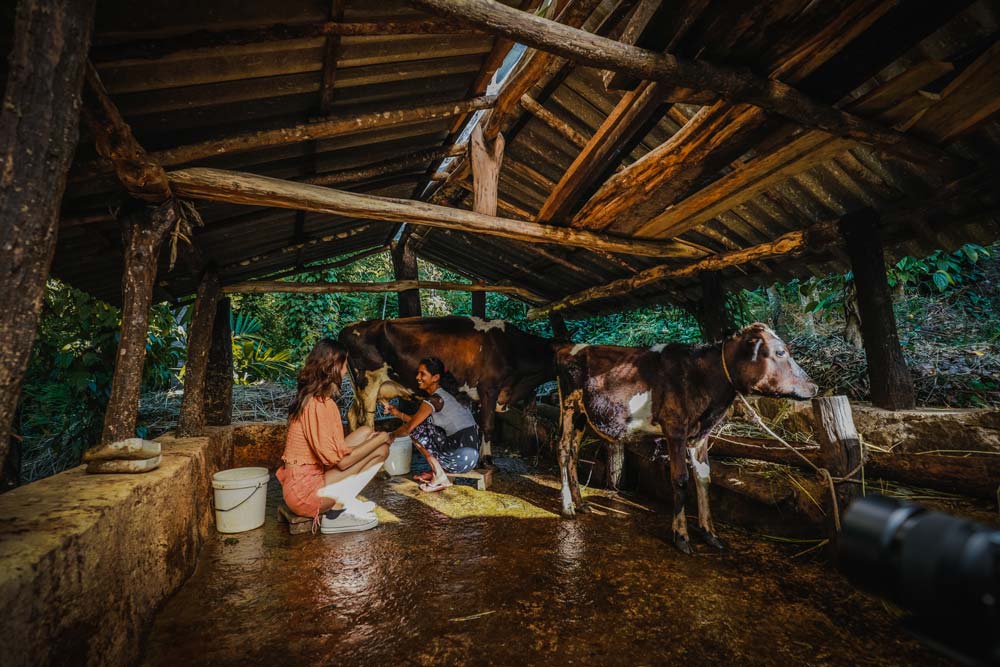 Cinnamon Trails
Known as the best cinnamon in the world, pure Ceylon Cinnamon comes from a tree indigenous to Sri Lanka. Cinnamon bark peeling and turning them into quills as we know them is a technique and an art form.It is not just the plant but also the unique art of cinnamon curing and processing that makes this the most flavourful cinnamon on earth.
Another Akway livelihood partner, Sanath has been utilizing his many talents to provide guests with this unparalleled experience. He takes great pride in his craft and will show you how to use a "koketta" to create these perfect peelings of Cinnamon bark. He will explain the process followed and may even share a few secrets if you're patient enough to learn them.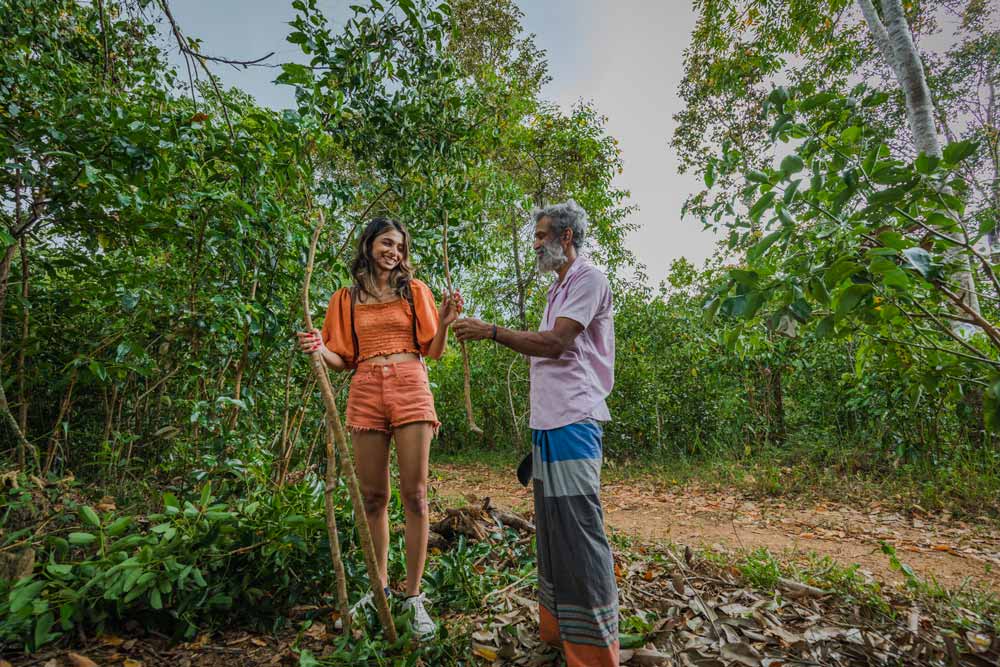 Soragune Kammala
Proving that the history of the Sri Lankan metal industry's roots goes back to the 3rd Century BC, ancient chronicles like The Mahavansaya, Thupavanasa, and Pujavaliya mention the non-conventional, wind-driven iron smelting furnaces as being seen for the first time in the world on this little island.
Go back to the times of yore by visiting Soragune's very own "Bandara Basunnahe". A second-generation Ironsmith who continues to use a "Kihihiriya" (anvil) along with the famous "Maina Hama" as the tools of his trade.
Visit this "Kammala" and experience a unique and forgotten trade that has managed to remain untouched by the hand of modernization even in the 21st Century.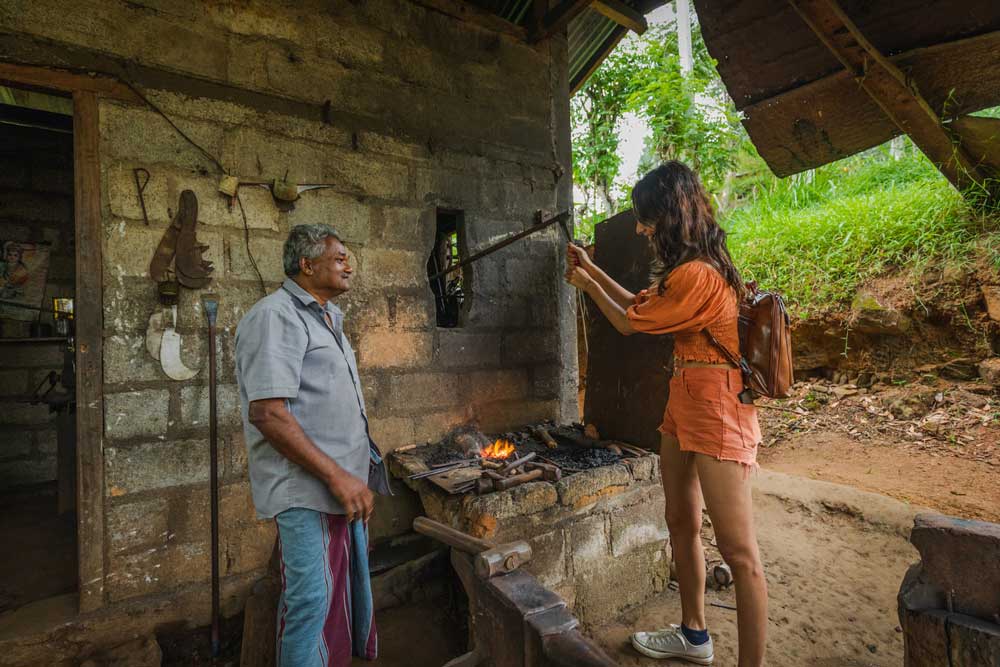 Production of Rubber
Rubber production in Sri Lanka commenced in 1876, with the planting of 1.919 rubber seedlings in the Henarathgoda Botanical Garden
Taking you to the Rubber Plantation you will experience the way of extracting rubber milk by the village rubber trappers, their life style, the Traditional Machine they used for the manufacturing process, and rubber sheet storing system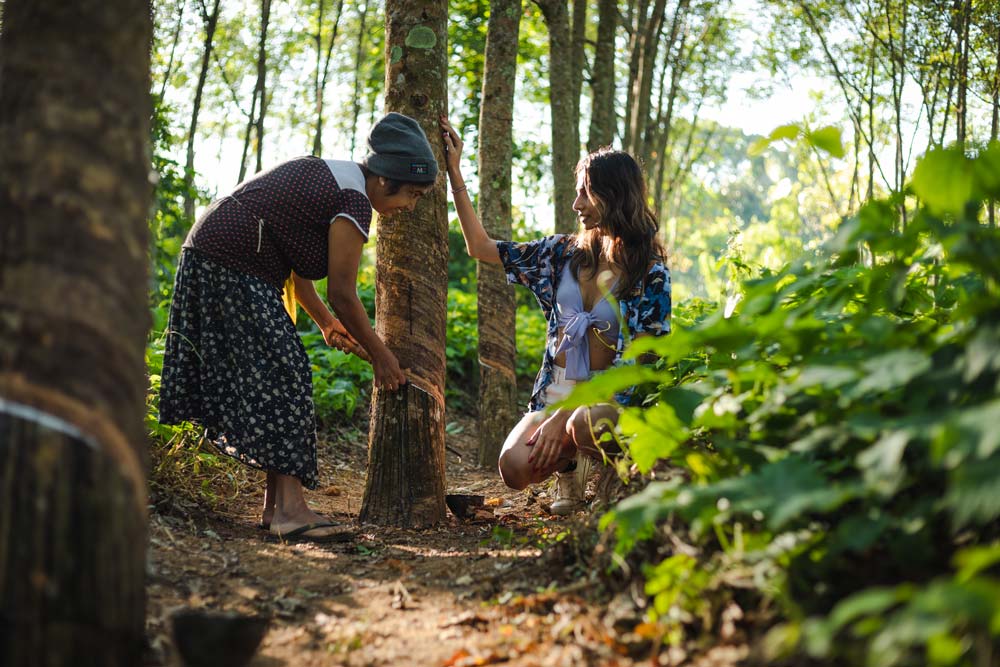 Make your own Village Lunch
With an infectious smile that embodies the spirit of Sri Lankan villagers she takes us on a journey of a life that is very different to ours..
The aromas that waft out of her "dung kussiya" (outdoor kitchen) speaks to the heart. She takes great pride in talking about the traditional equipment she uses in her cooking. The large Wangediya and Mole gaha* (A large Mortar and pestle) is her favorite kitchen gadget and her "miris gala" (grinding stone) has been passed down her family for generations.